The History of Dying Stars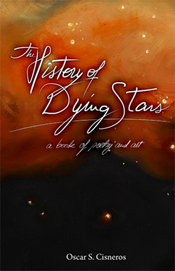 The History of Dying Stars is a book of poetry and art written by Oscar S. Cisneros, a Mexican-American attorney and poet living and working in the Los Angeles area. The book features more than 80 poems and sixteen works of art by twelve different artists, including the author's mother, Leticia Rendon. Each work of art - paintings, mixed media illustrations, photographs, photo illustrations and digital artworks - was specifically commissioned to visually interpret a single poem in the book.
The History of Dying Stars is available in the following formats:
Full Color Print Edition

Black and White Print Edition

Basic eBook
Edition

Enhanced eBook
Edition

The black and white print edition has a black and white interior and a full color cover. Both eBook editions contain all of the poetry and art from the full color print edition and the Enhanced eBook Edition includes spoken word recordings of selected poems recited by the author.

The author invites you to join him and several contributing artists on Saturday June 4, 2011 in Burbank for the book's launch party. Click here for more details. South Texas residents are also invited to attend a book reading event sponsored by the University of Texas at Brownsville on June 13, 2011 in Brownsville, Texas. Click here for more details on the UTB event.