About The History of Dying Stars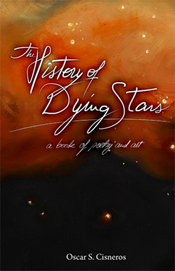 The History of Dying Stars is a book of poetry and art written by Oscar S. Cisneros, a Mexican-American attorney and poet living and working in the Los Angeles area. The book features more than 80 poems and sixteen works of art by twelve different artists, including the author's mother, Leticia Rendon. Each work of art – paintings, mixed media illustrations, photographs, photo illustrations and digital artworks – was specifically commissioned to visually interpret a single poem in the book.
The History of Dying Stars centers readers in the present by bringing legacy into focus: as starlight is light traveling from an origin long-since darkened, so will today's act of kindness live on tomorrow. Love, loss, fantasy, legacy and affirmations are among the many themes of the poems in The History of Dying Stars and in each of them Mr. Cisneros strives to find the extraordinary in the ordinary and to express what we so often feel but rarely speak of.
Many of the poems adopt the style of the poet Khalil Gibran, using imagery from nature and everyday life to express the simple but powerful human experience whose meaning transcends culture and language. Other poems are unapologetic, masculine expressions of love, desire or loss. The author also dabbles in the fantastic, using dreams and broken toys to tell tales that reflect reality in the funhouse mirror of imagination. The History of Dying Stars closes with a chapter on poetic affirmations, hard-earned wisdom and practical guidance about identity, confidence, relationships and the difference between understanding and acceptance.
About The Author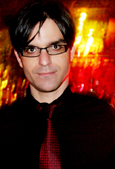 Born in San Juan, Puerto Rico in 1974, Oscar S. Cisneros was raised in Brownsville, Texas. After graduating from University of Texas with honors in English, he went on to study law and graduate from UC Berkeley School of Law where his studies focused on intellectual property and other law and technology matters. Mr. Cisneros is presently a senior technology licensing attorney for a major motion picture studio. He wrote and self-published his first book of poetry, The Flower Queen, while in law school. He lives in the Los Angeles area with Waffles, his Jack Russell Terrier.
About The Artists

Cyndee Arroyo is a photographer residing in Southern California. Cyndee spent her childhood in a seaside town where she engaged in some form of art or expression since her earliest memories. This experience together with her later interest in punk, industrial and deathrock music, quite possibly created the foundation for her emergence into the type of photography that she produces today.
Site: http://www.13thhourstudios.com/

Grace Elkin is a photographer living in sunny Leicester, a city in the East Midlands area of England, with Old Gregg. She is a motivated optimist and is always juggling a million ideas and top secret plans.
Site: https://www.facebook.com/home.php?sk=group_155064987866271

K. Howell, primarily works in acrylic, ink and graphite.  She has had two of her works in the San Diego Museum of Art, and continues to show her work in the LA area.  Her art cave is located in sunny Pasadena, California.
Site: http://ravenfrog.kh.tripod.com

Carol Jahshan is a Lebanese American clinical psychologist and artist. Dr. Jahshan conducts research on schizophrenia and spends most of her free time behind and in front of the camera lens. 

Her passion is to create striking images that challenge the mainstream and encourage self-expression. 

She lives and works in West Los Angeles.

Jihye Lee is a soon-to-be graduate of Art Center College of Design, majoring in Entertainment Arts. An avid gamer, comic book reader, and an all-around equal-opportunity nerd, she lives happily in Los Angeles balancing school and freelance work.
Site: http://jihyeleeart.tumblr.com/

Ann Mansolino is an artist and college professor who lives, teaches, and photographs in the Los Angeles area. She travels extensively, and makes photographs that explore the relationship between the internal self and external ideas of past, present, identity, and place.
Site: http://www.annmansolino.com

Leticia Rendon is a versatile artist and teacher eager to contribute comprehensive creative background toward providing quality education to students. 
Alyssa Rosales is a multi-talented artist and animal lover based in LA. She specializes in cake decorating, painting, and other various crafty projects. She has a great passion for rescuing animals, and is inspired daily by her dog Daisy and three curious cats Itty, Luna and Goblin.
Site: http:// www.cleverlittlecat.com

Violet Schrage is a Hollywood photographer trained in Editorial, Fashion, Entertainment, Portraiture, and Fine Art.  Known for an edgy perspective, her style comes from 15+ years experience in capturing people and events.  Violets personal interest work can be seen in magazines such as Von Gutenberg and Tattoo Savage. 
Site: http://www.violetphotography.com/

Annie Terrazzo is a American artist that uses newspapers and magazines from around the world to create her work. Although she is based in Los Angeles, she travels constantly, gathering materials for her work.
Site: http://www.detritus-art.com

Mike Turner is a native of Crown Point, IN.  He is one half the electronic music duo "Sauce Transportation."  He currently lives, studies, and sells art in Chicago, IL.  He still wants to be a comedian though. 


Wendy Waagenaar is an artist, florist, craft extraordinaire. She makes jewelry, costumes, and one-of-a-kind hair ornaments. Her creations can be occasionally found at http://www.etsy.com/people/vampgirl13. Born and raised in the San Fernando Valley, she lives with her four cats Monster, Zombie, Xena, and Tiger.